The Importance of Groundworks and Site Preparation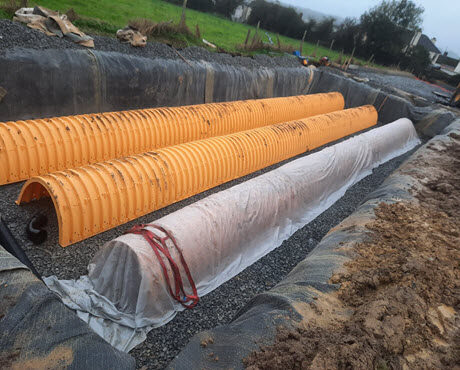 One of the most significant benefits of proper groundworks and site preparation is the prevention of future issues. By assessing the soil type, the ground stability, and underground risks, specialists can identify potential hazards before construction begins. This means that the project team can plan preventative measures to reduce the risk of damage or failure, saving time and expense in the long run.
We can ensure that your site is prepared to a high standard then whatever surface you choose will be long lasting, reliable and a top quality finish. We can excavate and clear subsoil/topsoil/ditches/scrub etc, and removal off site can be arranged. We will deliver all groundworks preparation to cover our customers requirements. Our services cover both domestic and commercial projects.
Drainage
All of our projects are centered around proper drainage and our team at Fitzpatrick's are experienced in all drainage services. Drainage works are an essential part of preparing for surface works as this will ensure the longevity of the surface once it is laid. We will ensure that drainage is well positioned and functioning for the future.
Kerbing
We offer a wide range of kerb products to suit the type of finish you are looking for. All kerbing supplied is available in pre-cast concrete. We are happy to install any other type of kerbs/edging you prefer. We will prepare your site for kerbing regardless of how prepared your site is. Our kerb system gives a neat finish to your site, separating your site and adding value to your property.
Paving
We also provide paving services around your property. We are happy to work with you in choosing the correct option for you in laying paving for a patio, footpath or anywhere else around your home. Paving can also be used with tarmac as a break (e.g. between patio and driveway) or as a border/kerbing option. We supply and install a wide range of patio paving slabs/and setts. We use only the highest quality materials and can offer a wide range of products to suit your style and budget.